Since 1998, ISASF Society organizes or brings its support to gather the whole scientific community specialized into supercritical fluids through regular scientific meetings or symposia.
International Symposium on Supercritical Fluids (ISSF)
ISSF Symposium are organized once every three years and gather the international community.
13th ISSF 2022 was organized in Montreal, Canada, chaired by Feral Temelli.

SAVE THE DATE !
14 th ISSF June 2025,Bali
Chair : Jaehoon Kim, South Korea
All ISSF since 1988
1st ISSF 1988 – Nice (France) Chair: Michel Perrut
2nd ISSF 1991 – Boston (USA) Chair: Mark A. McHugh
3rd ISSF 1994 – Strasbourg (France) Chair: Gerd Brunner, Michel Perrut
4th ISSF 1997 – Sendai (Japan) Chair : Shozaburo Saito, Kunio Arai
5th ISSF 2000 – Atlanta (USA) Chair : Amyn S. Teja, Charles A. Eckert
6th ISSF 2003 – Versailles (France) Chair : Gerd Brunner, Ireneo Kikic, Michel Perrut
7th ISSF 2005 – Orlando (USA) Chair : Joan Brennecke, Keith Johnston
8th ISSF 2006 – Kyoto (Japan) Chair : Motonobu Goto, Tadafumi Adschiri, Buxing Han, Youn-Woo Lee
9th ISSF 2009 – Arcachon (France) Chair : François Cansell, Jacques Fages, Jacques Mercadier
10th ISSF 2012 – San Francisco (USA) Chair: Jerry King
11th ISSF 2015 – Seoul (South Korea) Chair: Youn–Woo Lee, Tadafumi Adschiri, Yan-Ping Chen, Motonobu Goto, Buxing Han
12th ISSF 2018 – Antibes-Juan-les-Pins (France) Chair: Michel Perrut
---
European Meeting on Supercritical Fluids EMSF
In Europe, the EMSF (European Meeting on Supercritical Fluids) are organized once a year.
19 th EMSF 2023 was organized in Budapest, Hungary, chaired by Edit Szekely.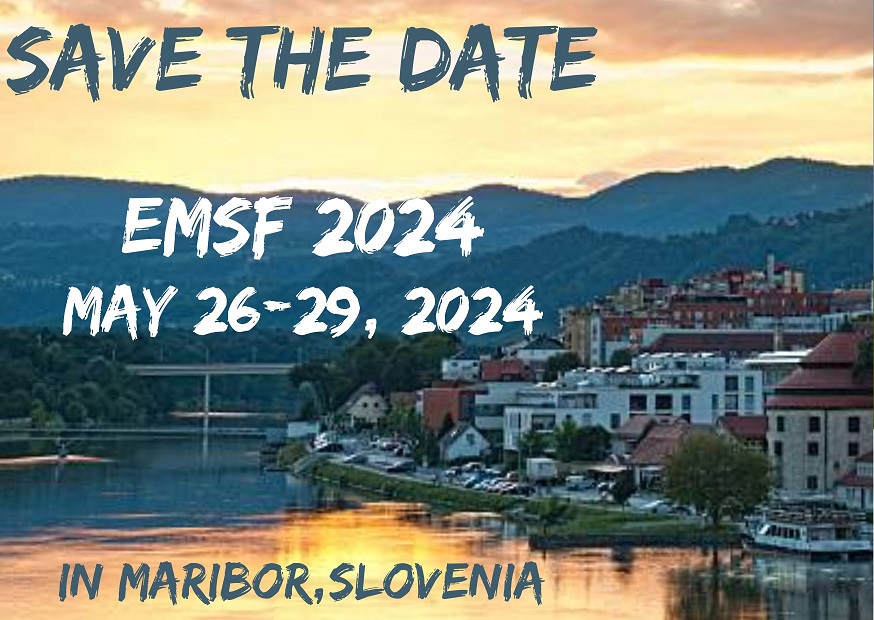 20th EMSF, charied by Zeljko Knez, Slovenia
All EMSF since
1st EMSF –
2nd EMSF
3rd EMSF
4th EMSF
5th EMSF 1998 – Nice (FRANCE) Chair : M. Perrut, P. Subra
6th EMSF 1999 – Nottinghma (U.K) Chair : M. Poliakoff, M. W. George, S. M. Howdle
7th EMSF 2000 – Antibes (France) Chair : Michel  Perrut, Ernesto Reverchon
8th EMSF 2002- Bordeaux (France) Chair : Marcel Besnard, François Cansel
9th EMSF 2004 – Trieste (Italy) Chair : Ireneo Kikic, Michel Perrut
10th EMSF 2005 – Colmar (France) Chair : Michel Perrut
11th EMSF 2008 – Barcelona (Spain) Chair : Jaume Veciana, Lourdes Veja, Nora Ventosa
12th EMSF 2010 – Graz (Austria) Chair : Thomas Gamse, Jacques Fages, Michel Perrut
13th EMSF 2011 – The Hague (The Netherlands) Chair : Maaike Kroon, Cor Peters, Caroline van Os-R0vers, Pleunie Smits, Geert-Jan Witkamp, Jaap van Sprosen, Maaike van Roosmalen
14th EMSF 2014 – Marseille (France) Chair : Elisabeth Badens, Jacques Fages
15th EMSF 2016 – Essen (Germany) Chair : Elisabeth Badens, Marcus Petermann, Eckhard Weidner
16th EMSF 2017 – Lisbon (Portugal) Chair : Ana Rita Duarte, Manuel Nunes da Ponte
17th EMSF 2019 – Ciudad Real (Spain) Chair : Juan Francisco Rodriguez Romero, Elisabeth Badens, Ignacio Gracio Fernández, Thomas Gamse, Eberhard Schlucker
18th EMSF 2021 – Online Meeting Chair : Cyril Aymonier
---
Since 2012, a special meeting is held on Aerogel Topics.
The last one was organised in presential on September 2022 chaired by Prof Irina Smirnova . It gathers almost 150 participants from nearly 30 countries.
---
In Latin-America, the PROSCIBA Meeting is organized once every three year.
Next Prosciba Meeting
Year :
Place :
Chair :
Visit Website :
---
Asian countries bring up scientific meeting called SUPERGREEN Meeting on topic of both supercritical fluids and green chemistry processes.
Next Supergreen Meeting
Year : 24 – 29 October 2022
Place : Taiwan (hybrid)
Chair : Chie-Shaan Su
---